Name: Emma
Age: 13
Location: Southport, England
Name 10 bands: fall out boy, blink 182, test icicles, bloc party, hard-fi, october fall, the fold, my chemical romance, angels and airwaves, plus 44
Name 3 books: i don't read much.... forgotten voices, creating websites the missing manual and....darren shan books
Name 3 movies: madagascar, shawshank redemption (i think it's called that!), lilo and stitch
Why is that band your favorite(and give the name)?: fall out boy because their music just appeals to me it just sounds amazing and they have a great style of music.
Whats your style? my style i don't know i wear jeans a studded belt a top my fav at the moment is my element one but im wearing my etnies one right now =]
What is your favorite show you've attended? ummm concert yeh? i havn't been to many cause i can never get tickets but i really want to go to give it a name but it's on my birthday =[ well to be honest it's mcfly it was really funny.
What made you apply here? i've seen the film a while ago and it was funny and then it just caught my eye when i was looking for fall out boy communities and i thought it's cool
Give us a 100x100 picture of you:


Rate us 1-10: i think 8 or 9 it's such a great idea
Tell us who you are more than 4 sentences.
err HI im emma im 13 i live in southport which is in england and people call it sunny southport which it is in the summer but im rarther cold at the moment. I love writing these sort of things they make me hyper. I get hyper alot i go on myspace and live journal, i tried greatest journal but i don't like it it's too complicated nothing works! yeh im slightly odd
Promote us in at least 1 place and show us the links(if you did not promote, you will be rejected.)
http://xxdougie-lovexx.livejournal.com/
Show us at least 3 pictures of your face.
umm i think i have 3 =S i don't have a camera you see my freind takes them and gives me them after about 3 months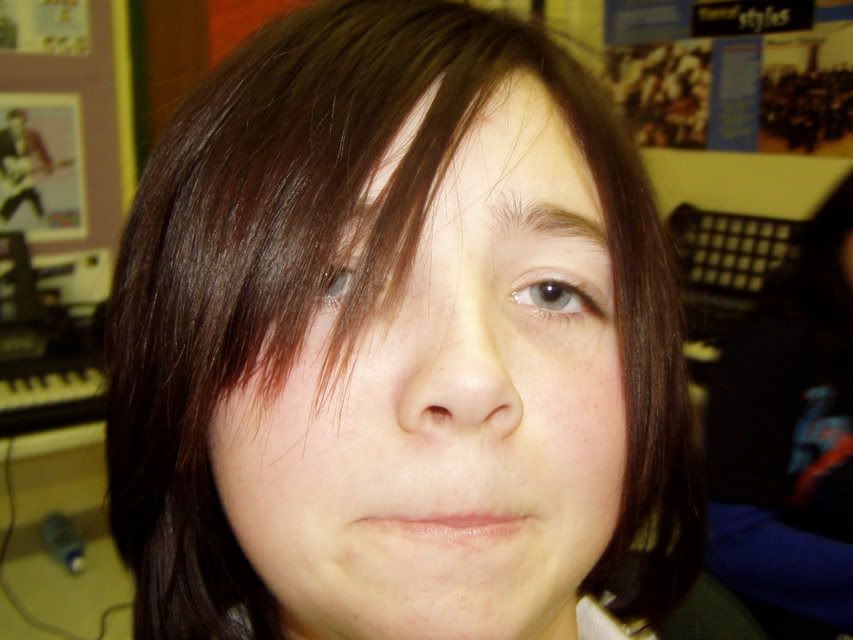 lol quite amusing no?